Boston News, Weather, Sports | FOX 25 | MyFoxBoston
Oncology Rehab Partners has teamed up with the Friends of Mel Foundation to bring evidence-based cancer rehabilitation medicine to Massachusetts hospitals and cancer centers through the STAR Program® Certification.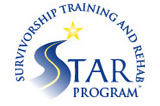 STAR Program Certification is the gold standard for cancer rehab for hospitals, cancer centers and rehabilitation facilities that offer multidisciplinary survivorship care. STAR Program Certification includes training and protocols that allow healthcare facilities to establish or expand their cancer rehab services quickly and effectively utilizing evidence-based, reimbursable care. Additionally, this program helps institutions to fulfill the cancer rehabilitation accreditation requirements by the American College of Surgeons' Commission on Cancer.
Current sites with Star Program Certifications are increasing their cancer rehabilitation referrals dramatically, and since this is reimbursable care by third party payors, revenue has also increased. To learn more about the STAR Program, visit www.oncrehab.com.